Our Beginning .....
Welcome to
A Neet Look
~ Majestic Beauty & Skin Care.
The company developed from the dreams and goals of the founder, Faith Archambeau and company's namesake, Anita "Neet" Varrato, (Faith's mother). The two shared a vision to build a family owned cosmetic and skin care company as well, making a difference in the social community. "Anita "Neet", taught her girls young the importance of proper skin care and how to have a positive self-image. Her love of quality skin care and beauty products are found in
A Neet Look's
exclusive product line. Anita "Neet" is in heaven but, her dream lives on with
A Neet Look
~ Majestic Beauty & Skin Care products and philosophy!
Our Mission
At
A Neet Look
our mission is to offer quality, affordable beauty and skin care products for all ages and skin types with no harmful or irritating ingredients you may find in other brands.
Our beauty and skin care products for all skin types work not only on the surface, but also, on a deeper, cellular level for amazing results and beautiful, healthy skin. In the beauty line there is a wide selection of eye, cheek, lip colors and foundation shades as well, specialized mineral based beauty and skin care products.
Included in our skin care line are a great variety of specialty treatments for age defying results and acne and sensitive skin needs too! We haven't forgotten the gentlemen's needs offering targeted skin care products just for the guys along with the many unisex skin care products only at
A Neet Look
.
What Makes
A Neet Look

Different?




A Neet Look's

products are all natural and free of ingredients that can irritate your skin. We offer products safe for all skin types, especially mature, sensitive and acne prone skin types. Our products have SPF in our foundations and moisturizers giving you all day protection from harmful UV rays. There are no oils, talc, dyes, fragrances or synthetic colorants in any of our beauty and skin care products and no animal testing.




What you will find in our products:




* Natural Ingredients

* Vitamin & Antioxidants

* Mineral Based products

* Sensitive Skin Safe

* Age Defying treatments

* Acne Treatments

* BOLD Fun Effect Eye colors

* Microdermabrasion products




The company's focus is to provide quality natural Beauty and Skin Care products and educate the young, (Skin Care & Beauty tip videos coming soon) on healthy skin care habits starting at an early age. Educating aligns with Anita "Neet"s love of working and helping young people throughout her life.

A Neet Look's

products offer an opportunity for ALL ages and skin types to learn the benefits of pampering the skin with natural - mineral based Beauty and Skin Care products available at an affordable price resulting in beautiful, healthy looking skin.



Our Social Responsibility Goals
We believe in being a socially responsible company by giving back to the community.
A Neet Look 's
business and social goal are to achieve favorable recognition in the global cosmetic industry and social communities. Providing affordable, quality beauty and skin care products that aid in enhancing a healthy self-image for teens, young and adults and mature adults worldwide will assist in achieving our company goal. Our products do not use animal testing that aligns with being a supporter of the SPCA and other animal protection organizations.
Our primary social goal is to educate teens and young adults about the importance of proper skin care and to help achieve a better self-image. Recognizing today's youth are in crisis with the high suicide rates from many social pressures often stemming from a poor self-inflicted overall body image we will showcase at
A Neet Look

our instructional videos taught by the "face" of

A Neet Look

, Chelsi
♥
Archambeau. She will demonstrate in the videos good skin care habits using a 3 step daily cleansing, toning and moisturizing process as well, offer many helpful beauty tips incorporating our all- natural, mineral based beauty and skin care line.
A Neet Look
is proud to be a named supporter of
"THE KCA MOVEMENT"
created by Cat Gray. She's been helping our youth in crisis since 2010 following the loss of her beloved daughter, Chelsea to suicide. "The KCA Movement is devoted to diligently providing alternatives for OUR Youth. WE can't let them give up and take their lives. Suicide in Youth (under age 24) has tripled over the last decade. The increase in Bullying, Cyber Bullying, Past Sexual abuse, Body Image Issues, Underage Alcohol & Drug Abuse, Depression and anxiety contribute to this suicide epidemic in our youth today. We will fight to reach all young people and offer them a LIFELINE before they reach their Deadline! We will be working in conjunction with The KCA Movement organization with skin care product contributions to enhance a better self-image for today's youth in fun contests in the near future.
Another self help organization
A Neet Look
supports who's been helping teens and young adults globally since 2009 is
"In Search of Me Cafe"
created by Stan Cottle. "In Search of Me Café " is revolutionizing the way positive life skills and self-help information is made available to youth ages 13-20. This comprehensive, interactive, media-rich website helps today's teens address problems, communicate thoughts and ideas in a like-minded social network, and seek outside help in finding solutions. This organization is hailed by the United Nations for its worldwide efforts helping young people to cope with self-image and other challenges our youth face in today's world.
 

Chelsi
♥
Archambeau,
A Neet Look's
spokesperson is the ideal choice being a panelist and peer-to-peer role model since 2010 for teens and young adults on "In Search of Me Cafe".
We believe teens and adults to develop a healthier self image starts with liking who you are inside and out! Good skin care habits is a great way to boost one's self image. Our products will help you feel good and look rejuvenated feeling like a queen every day with healthy looking skin.
A Neet Look
will be offering skin cares kit prizes in various contests at
A Neet Look
for all to participate in coming soon.
The Story Continues ....
A Neet Look
offers you the newest cutting edge Skin Care products and hottest neutral and bold eye and lip colors as well, exciting fun colored body glitters for a sizzling night out on the town!
Enjoy a night out with A NEET LOOK's


Majestic eye colors and glitters and be a Queen.
Pamper yourself ~ Feel like a Queen Everyday with Beauty & Skin Care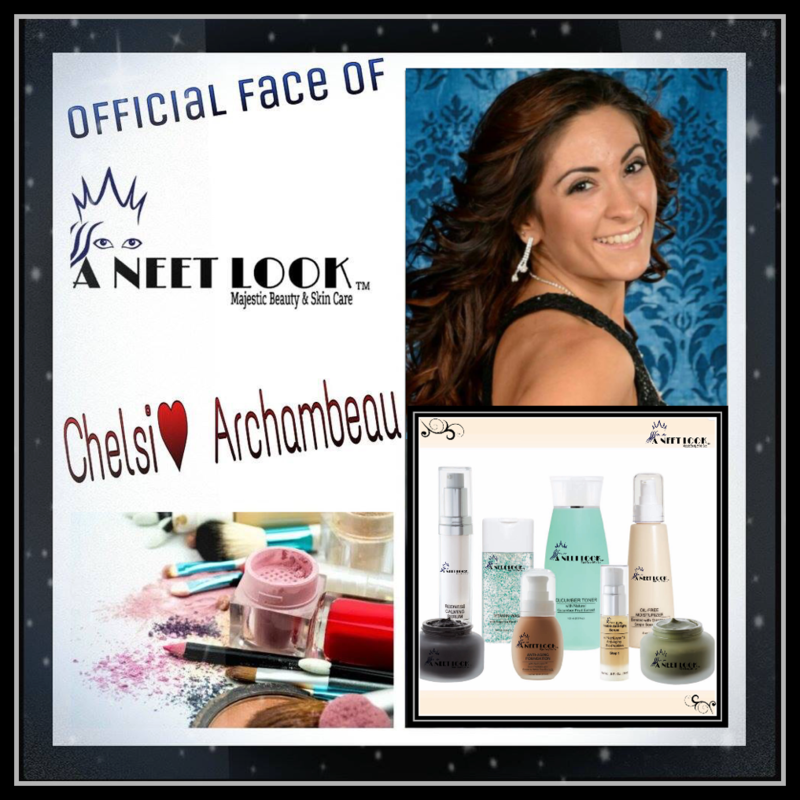 A NEET LOOK ~ Majestic Beauty & Skin Care